I managed to make some time yesterday to visit MADE London Design & Craft Fair and so glad that I did. I knew of it's success where it originated in Brighton and was excited to hear about it's first show in London which opened yesterday and is open this entire weekend.
The London event is taking place at the stunning building that is One Marylebone and the delights on show are beautiful and inspiring. You will find something different around every corner, and it's set out on 4 floors too, lots to take in.
The Brighton MADE Design & Craft Fair is now one of the most respected and popular craft events in the country I understand and over 6,000 attend each year. It was set up by artist and printmaker Sarah Young and administrator Jon Tutton. I wish the London show every success and really hope it returns every year. Do go and visit if you are near Great Portland Street tomorrow, it's the last day, it's open from 10am until 5pm. £10 on the door or £8 in advance from here.
It's a unique experience as you are buying directly from the artists and makers who are so passionate about their creations it's difficult to not be inspired. Not only is it a temptation to buy so many beautiful things, you can't help but be captured by the skills and techniques involved and find yourself imagining a new career for yourself! OK maybe that's just me, I picked up leaflets about embroidery workshops and jewellery making courses....where do I think I will find the time for this?! Ha, one day. My passion still lies with one day doing more with my love for printing and particularly with textiles but that will have to wait a while too.
Here's some of my favourites I spotted yesterday but do try and get there tomorrow, you will not be disappointed...
Stunning jewellery from German jewellery maker
www.tanja-ufer.co.uk
such as the above Satellite ring.

Stephanie Ray has been making jewellery since 1996 and has a love for clean lines and simple forms which show in her designs. Stepping away from jewellery though, the above wooden art piece (left) is from a new collection called 'Urban Slums' which Stephanie has recently created since visiting the slums in Mumbai last year (her picture, above right). Around 1 million people live in an area covering just one square mile. She uses reclaimed wood to represent the fact that there is no waste in the slums. The newspaper represents the youths who have such high hopes whilst studying in the city. You can find out more about Stephanie's work at her website
www.stephanieray.co.uk
and also see images from her visit to Dharavi on Facebook.
I loved the bright colours from www.hollyberryprojects.com who produces woven blankets and accessories either by hand or at a 250 year old mill. I want to wrap up in them right now on this freezing evening!
"At last you can stitch for your bitch, purl for your Persian...." is the intro for Muir & Osborne's very first publication containing knitwear patterns for a whole range of pet accessories, great fun (called Pet Heaven). Their most recent publication is
Best in Show - 25 more dogs to knit
and knitted dogs (as per pic above) is what drew me to their display at MADE. Name the dog breed, it was there! Very cute. I was tempted but I know my children are too young to cherish them just yet. One to remember though. The brand is also and originally very successful in knitted clothing (for humans!).
http://www.muirandosborne.co.uk/
Louise O'Neill had some stunning jewellery, love the very simple wedding and engagement collections. Love this ring of yellow gold and tourmalines too www.louiseoneill.com

Linda Miller had some very cute and colourful machine embroidered framed art. She holds workshops in her Kent (Winchester) studio www.lindamillerembroideries.co.uk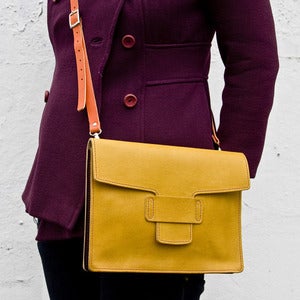 There were lots of amazing designers with leather goods, such good quality and attention to detail. This leather maker stood out to me www.wolframlohr.com - lovely bright colour combinations. Above is the Nancy Bag.


Dear Father Christmas...please can I have a wreath necklace by
www.bethgilmour.com
Such pretty jewellery, very delicate and I wanted it all! Wreath necklace shown above,
available in gold or silver.
Hand-printed textiles from www.teresagreen.co.uk included bags, aprons, purses and cards. Cute illustrations which looked really great transferred to fabric.

Well, I could go on and on....but really I just want to encourage anyone that can to get yourself down there.
Where: One Marylebone, London, NW1 4AQ. Last day tomorrow Sunday 28th October! Open from 10 until 5pm.
MADE London is sponsored by www.madebyhandonline.com - Enter voucher code 'madelondon' for £5 off your next order with them.